EDIA Saves 80% Time Rebuilding A Collaborative Platform with Appsmith
EDIA was struggling to maintain existing apps and develop new ones with a small team. They turned to Appsmith to improve their small development team's efficiency and responsiveness to business requirements.
7 days

to build data-crunching app

80%

reduction in development time

17-year-old

internal ticketing system was rebuilt
Many small development teams often face the challenge of efficiently maintaining their internal applications. This becomes even more challenging when these teams are also expected to develop new applications. Striking a balance between ensuring the smooth operation of existing applications and meeting the demand for new app development is not easy.
EDIA, Empresa de Desenvolvimento e Infra-estruturas do Alqueva, a state-owned utility company in southern Portugal, encountered a similar challenge. With only two developers, they struggled to maintain existing internal apps while keeping up with the demand for new app development. They turned to Appsmith to accelerate their app development and maintenance.
Duarte Carreira, the Data Analysis & Visualization Director at EDIA, shared his experience implementing Appsmith. How they started with simple apps, eventually replaced their legacy internal ticketing app, and built a simulator project to migrate a large collaborative platform app.
About EDIA
EDIA is a state-owned company responsible for managing the Alqueva Multipurpose Project in southern Portugal. This project aims to generate hydropower and facilitate agriculture irrigation on a regional scale, including the largest dam lake in western Europe.
With a focus on restarting economic, social, and sustainable development, the project ensures a reliable water supply for approximately 200,000 residents and 120,000 hectares of land in the region.
Maintaining legacy apps and developing new applications became a hassle for a small team
Duarte, along with a small team of two developers, had been developing internal apps for several years. However, as the company's needs grew, the time spent on maintaining existing apps began to outweigh their ability to develop new applications or add new functionalities.
The team's responsiveness to new requirements gradually slowed down, and they struggled to keep up with the increasing workload. While the legacy applications were functioning sufficiently, it was the maintenance hours and the need to address new business requirements that couldn't be ignored.
The mounting workload and limited resources resulted in a slower development process, making it difficult for the team to meet business requirements in a timely manner. To overcome this, they sought a platform that would accelerate their app development and maintenance processes. In their search for a solution, they explored mainstream options but found that the pricing was too high. However, when Duarte discovered Appsmith, he decided to give it a try.
Adapting and transitioning to Appsmith at their own pace paid off, accelerating their development process
Initially, they started with Appsmith developing simple apps that leveraged SQL to read, filter, edit, and update data in their tables. One aspect that stood out for Duarte was the open-source nature and community support, which allowed them to extensively test the platform without any trial period limitations.
After thoroughly evaluating various options, they chose Appsmith primarily because it allowed them to self-host, ensuring low latency and data security as they preferred to keep their internal databases and information within their own infrastructure.
As the team became more comfortable with the platform, they gradually incorporated more complex features and replaced legacy tools. The fast development cycles of Appsmith impressed them, as the platform continuously introduced new functionalities that further they implemented in their development process.
Appsmith's developer-centric and user-friendly interface, along with its integration with SQL and the ability to write JavaScript, facilitated a smooth transition for Duarte's team. Additionally, the platform supports requirements such as 2-way communication with iframes, enabling the team to integrate any third-party library they may need in the future. Duarte mentioned that Appsmith is easy and fast to set up due to its flexibility without unnecessary abstractions, allowing the team to work more efficiently and effectively.
80% less time rebuilding a collaborative platform app, accelerating development process with Appsmith
Duarte and his team's first major success was the rebuilding of a legacy internal ticketing system, originally developed in 2004. This application, used by a team of six, is integrated with an n8n workflow. The workflow generates a unique code for each ticket and uses the SQL shell command to create a folder on the server file system. The team provides the folder path to the users, enabling them to store their files.
Another notable achievement was the delivery of a data-crunching app that simulates the effects of a regulatory change to evaluate the potential impact on customers. Duarte and his team built and deployed this app in just one week. This quick turnaround time impressed the team and gave them the confidence to take on more ambitious projects.
The company deliberated between outsourcing and building a simulator project in-house for migrating a large collaborative platform app. Following these successes, they opted to build it using Appsmith. The original development of this app took nine months, but with Appsmith, they are confident to rebuild it in just two months, reducing the development time by 80%.
This substantial time savings not only improves their team's productivity, but also demonstrates how quickly they can now respond to business requirements. Appsmith plays a crucial role in achieving this outcome by minimizing the need for custom JavaScript code, which can lead to maintenance issues and potential bugs.
Duarte is now considering standardizing all their app development on Appsmith. This standardization would make it easier for them to hire contractors and external resources, ensuring consistent quality and control over their projects.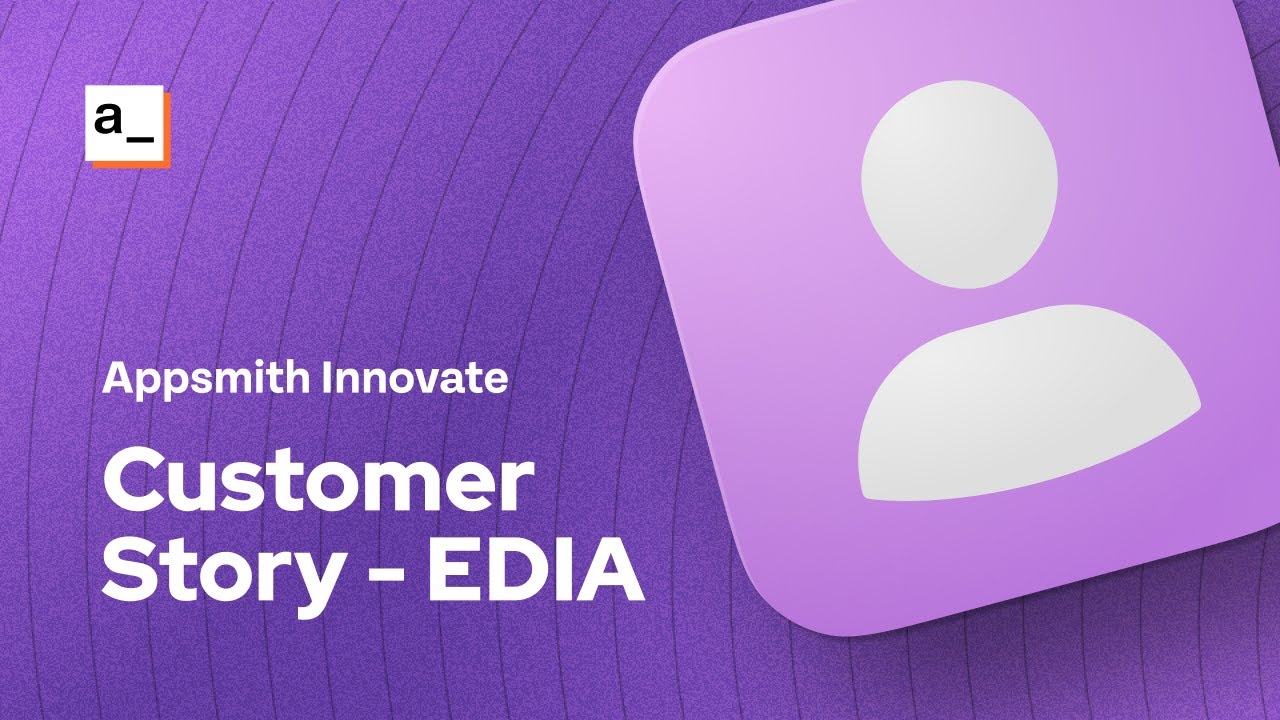 Build custom solutions to develop faster with Appsmith
If you want to accelerate the development process as Duarte and his team at EDIA, you can try Appsmith for free. With Appsmith, you can build custom solutions that accelerate your development process and enable you to respond faster to business requirements.
Whether you're looking to rebuild legacy apps, develop new applications, or replace outdated tools, Appsmith provides a developer-centric platform that is easy to use and deploy. Sign up and unlock the full potential of your development team.
Take Appsmith out for a spin
Talk to our team about your custom requirements or request a demo.