How Tiger Global funded Fyle Empowered Their Customer Success Team with Appsmith
Using Appsmith helped Fyle empower their customer success team to self-serve requests without the intervention of the engineering team.
30%

less engineering workload

30%

service requests automated

Faster
Fyle is a software product that helps management and finance teams eliminate manual work. Fyle's global expense management system integrates accounting software and credit card reconciliation, among other features.  With Fyle, employees can track their business expenses, apply for reimbursements on the go, etc. Fyle has over 300 customers in more than 80 countries and is backed by marquee investors like Tiger Global.
They are a team of 120 employees (and counting) who believe that business expenses should be the least complicated thing about businesses. We spoke to Jatin Sharma, a software engineer, and Gokul Kathiresan (Engineering Manager) in Fyle's Operations Engineering team about how they automated some of their crucial internal processes with Appsmith.
Solid Internal Processes Lead to Great External Success
Streamlining internal processes is crucial to any company, and it reflects on your deliverables and overall company performance. If you're able to manage those micro-processes, it improves the entire working environment, believes Jatin. "We know that when we build something in-house, we have to divert our attention and focus on maintaining that particular product and also scaling that product over time, and it can become a problem," he adds.
When companies scale — especially a fast-growing next-generation expense management software like Fyle — some operations become redundant, which employees have to perform manually and frequently. These activities are crucial for the flow of information in an organization, and a chink in the internal system can have severe repercussions for the end product. From an organizational perspective, the customer side of the product takes up a bulk of the engineering team's efforts. Then there's the internal platform engineering, dev-ops, etc., which is essential and also needs due attention. Effective internal tools/applications can help manage organizations like Fyle manage their engineering resources better.  
Fyle's Internal Challenges
Fyle's key focus internally is on resolving redundant operations, which are performed manually and frequently. And a part of this vision is to reduce pressure on the engineering team in catering to customer requests or completing operations required by the non-engineering team—avoiding maintaining in-house internal tools that place serious time and effort crunch on the engineering team. More specially, ensuring the smooth functioning of the customer success department. Whenever customers raise queries and requests, a customer success team member would create a "task" on Click Up (a project management application) and assign it to a member from the engineering team. "The scaling problem is real. Earlier it was a once-a-day activity, where two engineers would look over the requests, but now after going remote, and with the increasing volume of requests, it was affecting the productivity of our engineers," says Gokul.  
When the volume grows, ad-hoc tasks can no longer be possible, and in fact, can be detrimental to the functioning of an organization. At Fyle, the increased volume of requests put pressure on the engineering teams leading to backlogs and delays. It became urgent to resolve this issue for both the engineering and customer success teams. This is where Appsmith entered the picture by being the platform that could help the customer success team self-serve the requests without the intervention of the engineering team.
Why Fyle Chose Appsmith
Jatin's team at Fyle was already looking for a robust internal tool that could solve their problem of reducing engineering dependencies for day-to-day internal operations. They also tried Retool, Internal, among others, and chose to go with Appsmith for the following reasons:
Easy to evaluate
"

"

"We were able to do a hands-on demo quickly, and it made us understand what we were getting and what we could do with Appsmith."
‍Documentation
"

"

"The developer's documentation was great, and it provided easy steps to try out Appsmith. This was really helpful. It also has simple curl scripts for installing the platform via Docker, Kubernetes, etc."
Easy to Build‍
"

"

"It's so easy to build an app on Appsmith, that too in just less than 10 minutes.
Deploy on Private Instance
"

"

"We loved that we could deploy Appsmith on our local/private instance and build an app. For us, it was an important concern because it would involve our production database credentials which we were unwilling to share."
Open-Source
"

"

"We love that Appsmith is open-source. Infact, even the community edition, which is free to self-host has features that are at par with many of the paid products in the market. It has been a great problem solver for us."
Helpful Community
"

"

"Appmsith has a great and helpful community on Discord, and getting quick responses there helped us a lot!"
What did Fyle Build with Appsmith? ‍
Fyle created an internal service request management system for the customer success team. With this app, they could validate requests from organizations and resolve those requests with just a click of a button. This process has ensured that such requests get resolved in seconds. This application, built on Appsmith, provides Fyle's customer success team basic information about a customer to help debug and exclude PII data. It allows them to enable/disable some features and settings of the product for a specific set of customers. This enabled the team to self-serve customers' service requests without depending on the engineering team. This automation has reduced the turnaround time (TAT) of serving a customer's service request from a few days to just a few seconds.
See the app in action: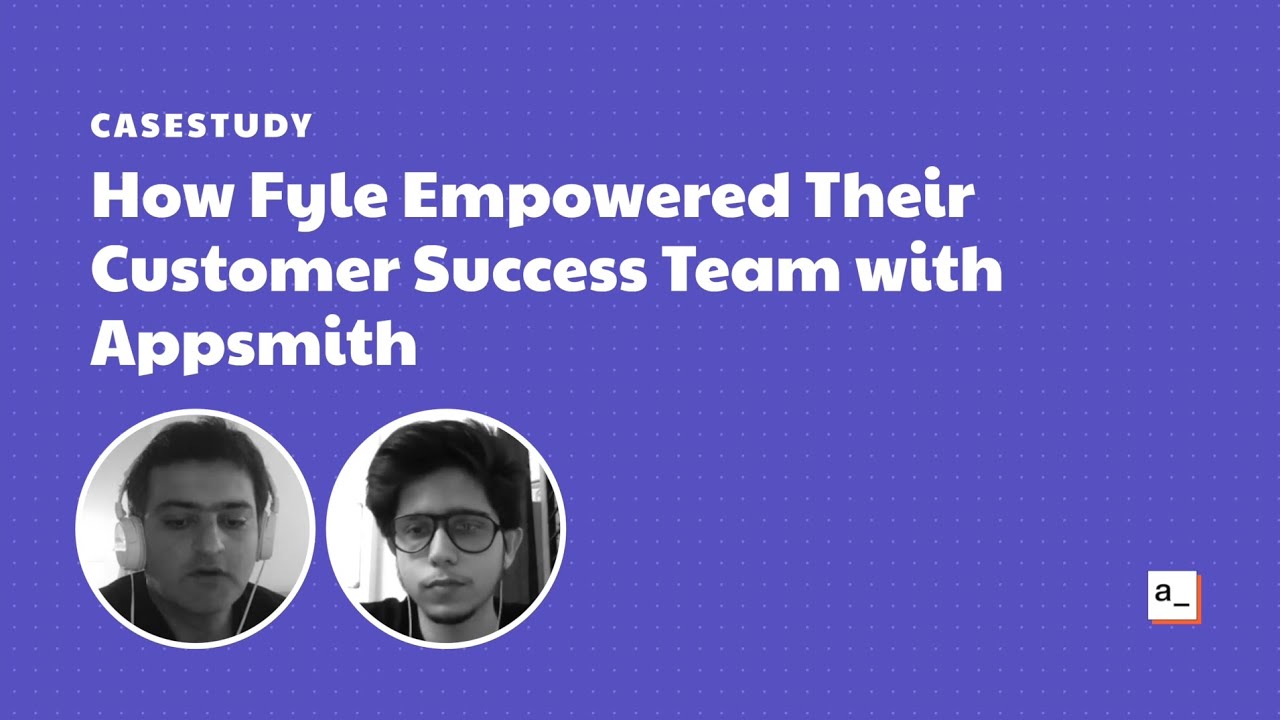 According to Gokul, out of the 300 service requests received after deploying the app built on Appsmith, customer success team members could resolve 100 by themselves! Earlier, a customer would raise a request, following which the customer success personnel would add and flag it to the engineering team, who would then add it to their list of tasks, resolve the issue, indulge in back and forth. Then it would finally get resolved in approximately two to three days! Phew! Picture more than ten people following up with engineers who have workloads filled to the brim; such requests would invariably fall through the cracks.
With Appsmith, Fyle has automated 30% of the total SRs created in this quarter alone by using Appsmith, saving valuable time and bandwidth for their engineering team to focus on growth.
An organization with the right idea about scaling up has a good understanding of the right foundations. Fyle is one such example. The 300 service requests, in all likelihood, will become 1000, 10000, and counting. At Fyle, by investing early on in an operations engineering team and relying on products that automate this, they are fully prepared for future growth and ensuring that their end customer is served better—at the same time, not burdening the wider engineering teams.
We can't wait to hear about what they build next!‍
Take Appsmith out for a spin
Talk to our team about your custom requirements or request a demo.